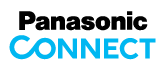 RUGGED MOBILE Systems are a Certified Partner of Panasonic TOUGHBOOK and we hold Handheld Certified status with Panasonic.
On October 1, 2021, with the Panasonic Group's transition to a holding company system, Panasonic Connect Europe GmbH, which leads the B2B solutions business, is newly established.
Panasonic Connect TOUGHBOOK® rugged laptops are engineered with enterprise-grade security to withstand drops, spills, dust and grime, and to perform in the harshest environments. Rugged reliability, low cost of ownership and accolades from reviewers are just a few of the reasons why Panasonic keeps winning over the world's toughest users.
In today's business environment, staying connected is no longer a luxury. It's the new standard for doing business. That's why more mobile professionals are turning to the reliability and world-class wireless performance of Panasonic Toughbook computers that feature embedded Wi-Fi and optional embedded wireless mobile broadband, delivering the "always on" connectivity demanded by the hectic, mobile lifestyles of today's workforce.
The wide variety of form factors available from Panasonic rugged and reliable mobile computers and tablets are designed to survive the rigors of the real-life business world. Find the right Toughbook laptop, tablet or handheld computer that meets your business needs.